Parks & Recreation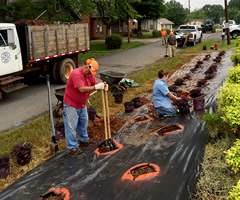 Parks & Recreation duties are some of the numerous tasks Badin Public Works addresses. Each facet of Badin's parks is considered for implementation and maintenance by Badin Public Works. Because it falls under the Public Works umbrella, you'll see familiar faces in trucks and tractors as well as on mowers and on foot when Parks & Recreation needs arise. The town manages three parks, each with its own unique offerings.
West Badin Park leads the charge with ample playground equipment, landscaping, open green spaces perfect for catch, and basketball courts.
Badin Recreation Park, ringed by Leland cypress trees, houses a competitive quality baseball/softball field and plenty of parking for organized sports, a small playground for young children who may not be ready for the field, open space and a soccer field.
Pine Street Park (known as Holly Place Park by many Badin natives) offers a serene natural setting for a relaxing, tree-filled, rocky woodland respite with open space, benches, tables and a swing set to offer just enough play equipment for energetic youth.
A French-Flavored Town at the Foot of the Uwharries